Forestry, Timber, & Logs
Land Management
"We treat your wood lot as if it were our own"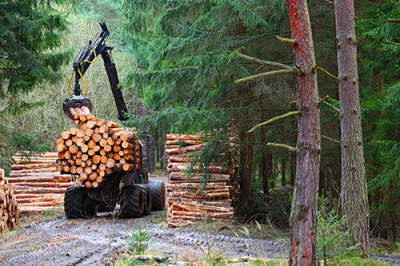 "What are you trying to achieve here? What are your goals for this lot? Is it a monetary thing? Is it a long-term management plan?"
That's the first question we ask anytime we sit down with a customer – because the answer can vary from person to person. Some people are looking for a quick financial yield, some are looking for a 50 year plan, and some are looking for something in between.
Mitcheltree Brother Logging and Lumber is equipped to tailor a plan to whatever your particular needs may be. We help you to understand how your lot can be managed – that it does not have to be a "one and done" situation but rather can be a steady stream of income every 5-10 years depending on the lot size.
Sustainability Management
Sustainability management is a philosophy that allows us to sustain a wood lot over a defined period of time. Whether it's the culling of invasive or low grade species, preserving wildlife, shaping how a lot will be harvested over the next generation, or even working to bring a neglected or poorly harvested lot back to health, Mitcheltree Brothers provides the plan and the personnel to help you craft the best plan for your property.
Wood Lot Evaluation
We'll let you know everything about your lot and its potential! Call 724-598-7885